Voici deux premières photos de ce concert, et quelques explications quant à ce "Black Selling"...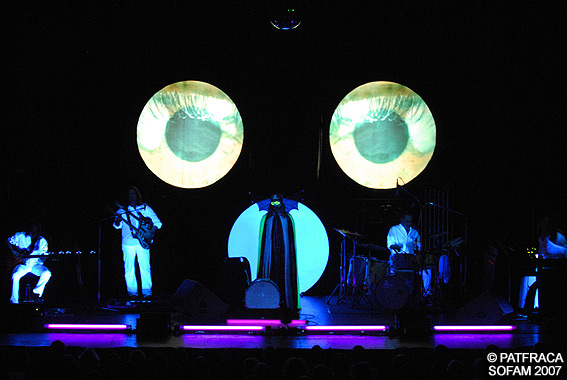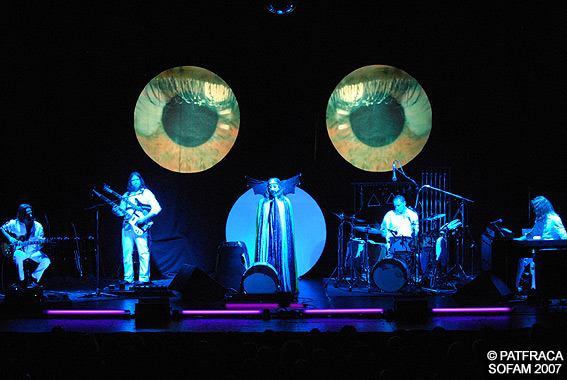 Genesis started their "Selling England by the Pound" tour in September 1973 in Europe, going to USA/Canada at the end of the year and returning to Europe for some more shows from January to mid February 1974.
Today these performances are known as the "white shows" and all of the recent TMB "Selling England" concerts (as well as the 2004 tour) are reconstructions of this exact version.
However, from March to May 1974 Genesis returned once again to USA/Canada and this time they radically changed the stage sets : The famous "hour glass" shaped props were replaced by black curtains, leaving space for two circular projection screens, and all instruments and accessories were painted black. There were also some modifications to the masks and slides.
The performance became technically a bit less complex, but the extreme lights allowed for highly dramatic appearances and disappearances of Peter Gabriel, and the show created a very different mood and feeling to the songs.
Genesis never performed the "black show" in Europe, and there are only few pictures in existence.
The Musical Box occasionally performed the "Black Show" between 1995 and 1996, until they performed two new shows (for the first time in 8 years) in April 2004 in Montreal to an excited audience.
During the European Tour 2004 they only performed one single "black" show of "Selling England by the Pound", including the black sets, slides and costumes - at Stadthalle Gersthofen (Augsburg) in the south of Germany.
As a "thank you" to their European audiences they will now return for a very last time in autumn to perform a small number of "Black Shows" - the rarest of all Genesis concerts...
Source, photos et toutes les dates sur
---
Copyright 2007 PATFRACA - SOFAM - All rights of the producer and the owner of the work reproduced reserved. Unauthorised copying, public performance prohibited.
---

Cirque Royal... Réservations >>>

<A "Black Selling"... MORE >>>

<A "The Musical Box" performs "Selling England By The Pound" au Cirque Royal de Bruxelles le 28 janvier 2007... MORE >>>
---
---